Pets
Puppy Shocked When A Bean Bag Chair Simply Exploded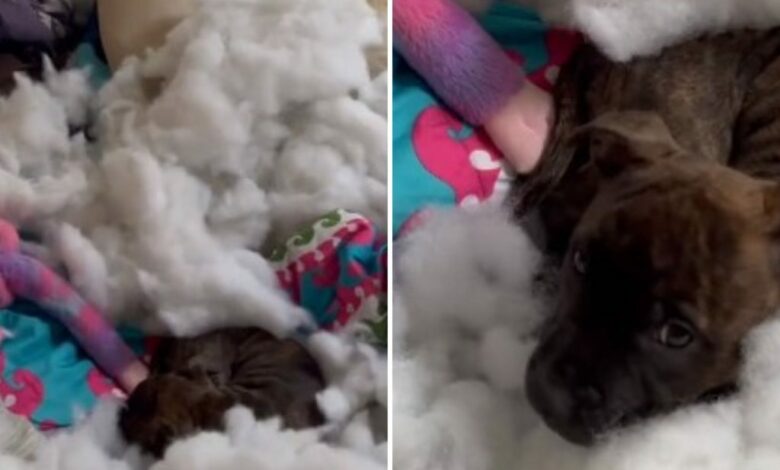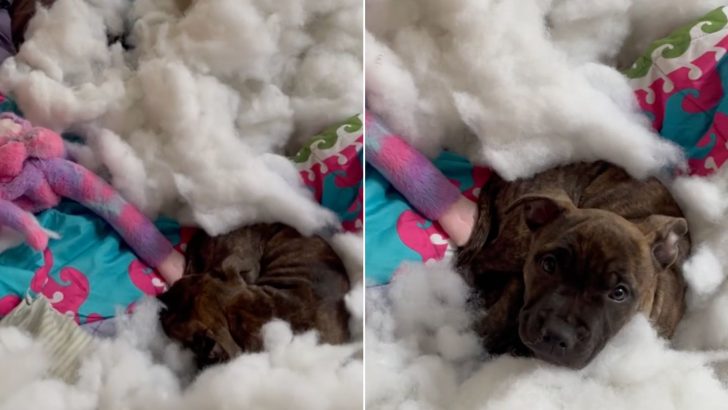 I was downstairs with my sister, Hazel, when that chair, out of nowhere, just… exploded!
I swear to God, mom, I was just minding my own business, when a huge BOOM happened.
It scared the life of me so much I had to brace myself, calm down, and take a nap…
… right in there in the middle of the mess.
Imagine walking out of a room, and not even one hour later, going back and entering a Build-a-Bear factory!
But, this time, the factory was inside Katie Robinson's living room, all covered in white stuffing material.
What on Earth happened here? Did a cloud explode over this Florida home?
The Shocking Explosion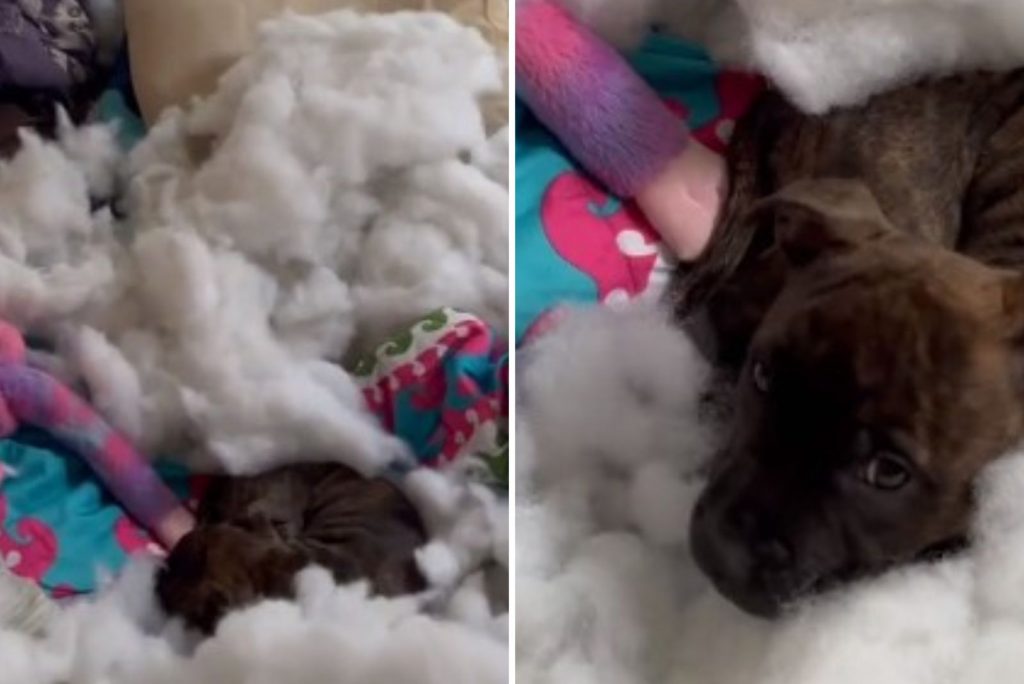 She's done quite a lot of mischief, from stealing slippers and socks to destroying her own toys.
But, she has never done something this big, even bigger than herself!
Jazmine was always an energetic pup, from the moment she moved into Katie Robinson's home. Along with her sister, Hazel, the Chiweenie, this sweet Staffy girl brought a lot of trouble, but also a lot of joy.
The life of the Robinson family, from Florida, wouldn't be the same without Hazel and Jazmine. These two pups are just too precious.
No one can really stay mad at them.
Well, that surely was tested one day.
Katie figured she had to do some laundry upstairs, so she left her dogs sleeping in the downstairs living room, snug as bugs and all peaceful.
The task didn't take a lot of her time, and Katie was done in about 45 minutes.
You know when you're a mom and suddenly, the silence feels so wrong?
Katie had that feeling, but she didn't expect to see such a surprise in the living room.
The bean bag chair, one of the pups' favorite napping spots, exploded all over the place, covering the living room in white fluff.
Was it too fluffy, so that the stitches couldn't take it anymore?
Was it some kind of paranormal activity?
No, it was just the work of two little masterminds, Hazel and Jazmine. Hazel decided she wanted to know what was inside that bag, and Jazmine just joined in on the fun.
Two tiny dogs, a Staffy puppy and a Chiweenie, destroyed the bean bag chair as if they were big and mighty pups.
Katie couldn't hide her surprise.
"I wasn't mad, more of a shock that they made such a mess so quickly and were already sleeping again like nothing happened," Robinson said. "In the video, I snuck up on the sleeping pups and when I got near Jazmine, I said, 'What did you do?!' And that's when she looks up at the camera with those sweet, innocent puppy eyes and laid her head back down — she was exhausted from all that work apparently. However, Hazel, the Chiweenie, knew she was busted and walked away with her head down. They did not get in trouble — the mess was too impressive to even get mad."
Indeed, the work of art was too impressive for her to be mad at those dogs. I mean, how did they even come up with it?
Luckily, the girls didn't fully destroy the chair. It took some time to scoop up the white stuff, but Katie and the kids managed to put it back together.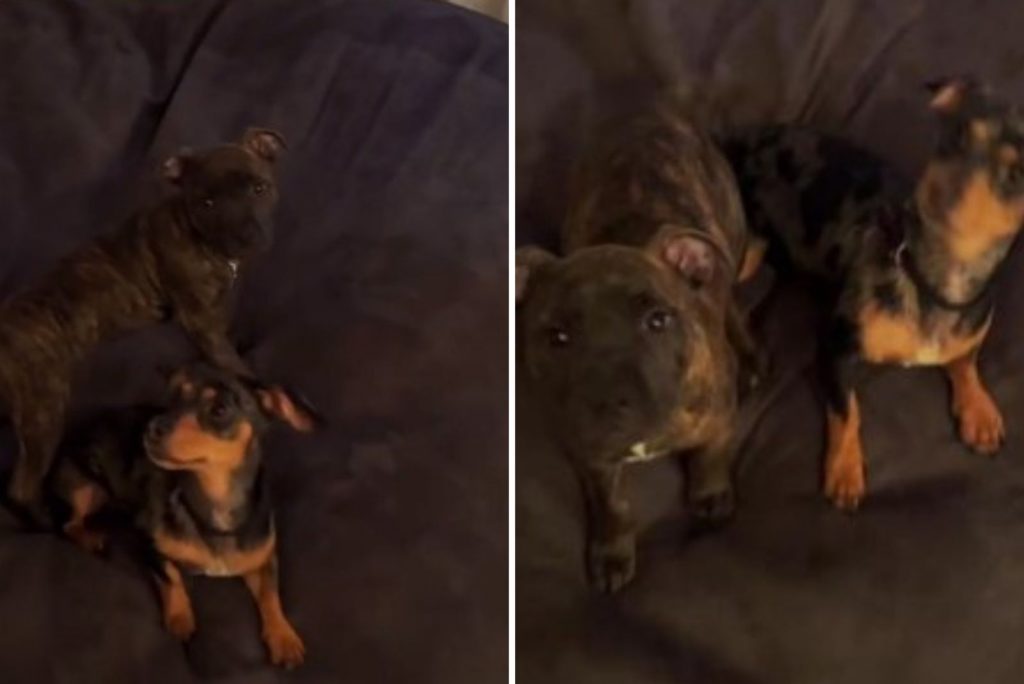 Gee, I wonder if Jazmine is still allowed even near that chair?
Their little project was really exhausting. Well, at least for Jazmine.
Jazzy girl was snoozing for the next three days after the incident. She was absolutely drained, restoring energy for new mischiefs.