Pets
Giant Great Dane Falls Deeply In Love With His New Grandma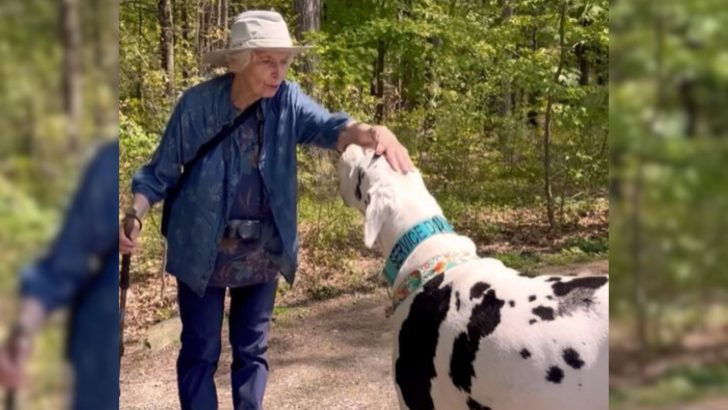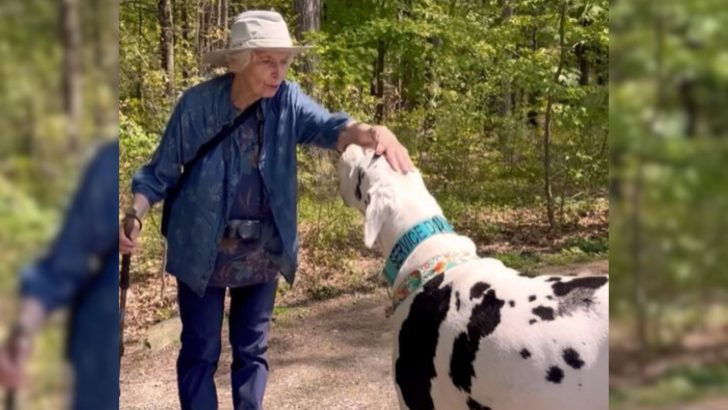 Research has shown that stroking dogs reduces our stress hormone, cortisol, and spending time with our furry friends increases the feel-good hormone, oxytocin. (1)
When we go through difficult periods in our life, dogs are the ones who give us the necessary comfort and love.
Kernel's story is a testament to that. Not only did he help two women find comfort, but he also helped them overcome their grief. Let's see how their story began.
Meeting In The Woods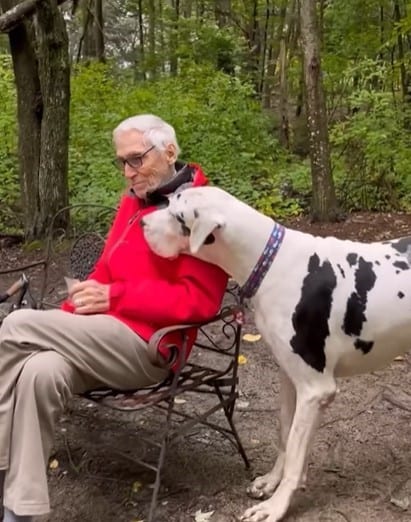 While walking through the woods with her dog, Kernel, the Great Dane in Boston, Massachusetts, Alyssa ran into an older couple, Cal and Maura. They were also hiking.
Alyssa was moved by their kindness and the way they smiled whenever they saw Kernel.
At the time, Kernel was going through a difficult time in his life. He was battling End Stage Ear Disease. Meeting Cal and Maura made his day and it immediately perked him up.
As Kernel stood next to Cal, he rested his head on Cal's shoulder as if he was looking for comfort on the shoulder of an old friend. The two of them seemed to have bonded immediately. Cal didn't mind that Kernel drooled on his shoulder, and he laughed wholeheartedly.
The couple loved Kernel and he fell in love with them, too.
After some time, Alyssa saw Maura again, but this time, the older woman was alone in the woods. After Maura told her that Cal passed away, Alyssa was heartbroken and she couldn't stop the tears that were falling down her face. She wasn't expecting to receive such news.
Cal's passing reminded her of her grandparents who raised her after her mom died.
Maura and Alyssa reminisced about the day they met in the woods and the way Cal laughed that day. Maura still has a recording of that laugh – his last one.
A Forever Friend
The grief and loss both of them experienced brought them closer together, and Alyssa believes they "both mutually make each other happy in different ways."
On Mother's Day, Maura invited Alyssa and Kernel to dinner. Both of them were so excited to visit her for the first time. Alyssa felt that Cal would have wanted Maura to bond with her and Kernel.
"This rusty bench is the last place where Maura and Cal walked together and it's also where we met, so it kind of feels like Cal set us up."
A New Grandma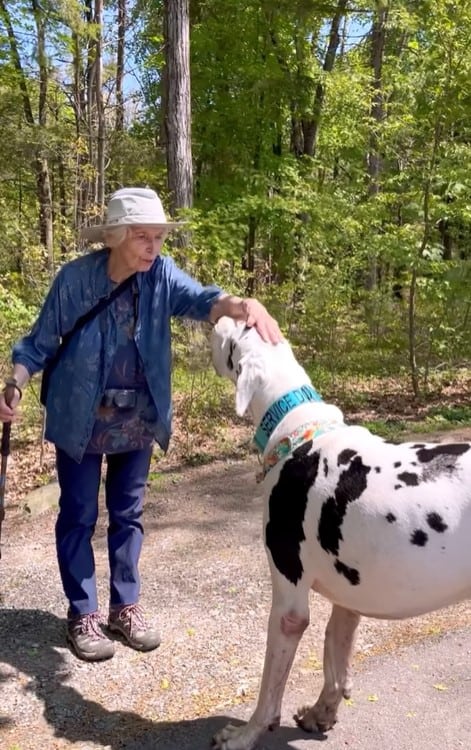 Alyssa owns an off-leash dog hiking company. Maura goes hiking with her and the pack once a week. She became the pack's Grandma. Alyssa believes that Kernel and the pack gave Maura "that sense of friendship, all while giving her some time in nature."
It's wonderful to see how Kernel and the whole pack welcomed Maura. They gave her the love and companionship she needed, and they helped her overcome her grief. 
It was as if they felt that she needed them the most. She became their forever friend and their Grandma.