Pets
"Unbreakable Bonds: Golden Retriever and Puppy Forge Lifelong Friendship, Completing Each Other"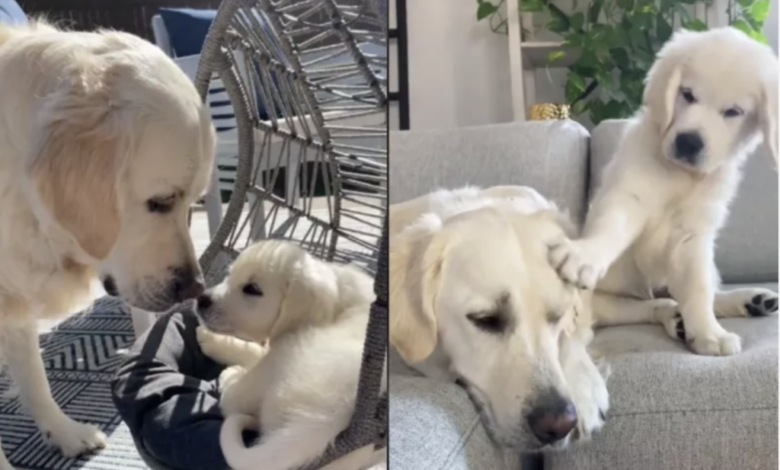 A moving video chronicling the blossoming friendship between a Golden Retriever and his owner's new puppy has surfaced online.
Amanda Vargas shared a heartfelt clip on the TikTok account @leothecream, showcasing the blossoming relationship between her dog, Leo, and his adorable little brother, Louie. Alongside the footage, she wrote, "The decision to bring Leo a little brother was the best choice we ever made. Leo and Louie complete each other."
Vargas explained that the idea of getting a dog arose after spending time with her family's English Golden Retriever named Zeus. "Leo, being related to Zeus, was chosen from a litter of 8 three years ago," she revealed. "And now, we felt it was time to provide Leo with a companion."
While some dogs living together may occasionally encounter conflicts over food or sleeping arrangements, research suggests that canines who coexist with other animals tend to enjoy better overall health.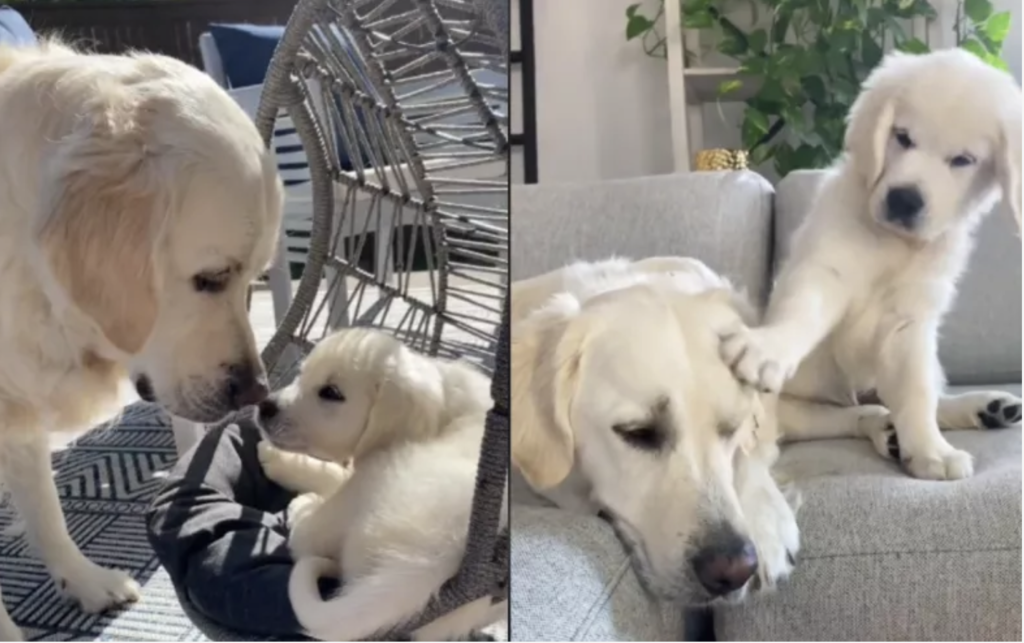 In a recent study published in the journal Evolution, Medicine, and Public Health, researchers delved into the various factors influencing a dog's well-being within a home environment. Analyzing data from a survey of 21,410 dogs, they identified five crucial elements that impact a dog's overall health. These factors included household income, neighborhood stability, owner's age, time spent with children, and time spent with other animals.
The study found that social companionship with both humans and other animals contributed significantly to a dog's improved health. Surprisingly, friendship with fellow animals was five times more influential in promoting well-being than the owner's income alone.
Louie became an integral part of the Vargas family in August 2021, instantly leaving a profound impact on Leo's life. Vargas expressed, "Even if it was just for an hour, we always felt guilty leaving Leo alone in the house. Golden Retrievers, especially, are highly sociable creatures. Leo always adored other dogs, so we knew it was time to find him a companion."❤️❤️😘
Having recently settled into their new home, the Vargas family provided Leo and Louie with ample space and a yard to flourish side by side. However, it did take some time for the two dogs to adjust to each other's presence.
Vargas shared, "It took a couple of weeks for Leo to fully adapt to sharing attention with another dog in the house. But by the second day, Leo began initiating play, allowing Louie to bite and jump on him, and eventually, they would fall asleep near one another."😘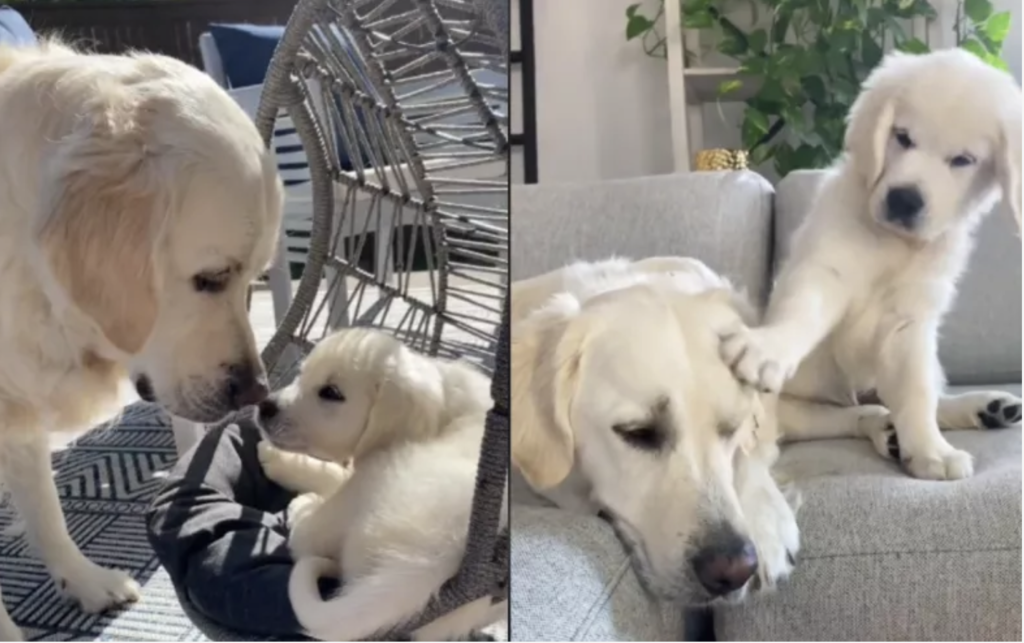 From the very beginning, it was evident that Louie held Leo in high regard. The video captures this beautifully, displaying the young puppy pawing at his older brother's face and playfully provoking interactions between them.
"Louie has always looked up to Leo, as you can see right from the start of the video," Vargas shared. "We often catch Louie gazing at Leo, attempting to establish a connection through their eyes. It's truly a sight like no other."❤️❤️❤️😘
The video unquestionably showcases the profound impact they have on each other's lives and the numerous health benefits they derive from living alongside another animal.
Vargas affectionately shared, "The boys relish their daily walks, wake me up in the morning for snuggles, engage in playful wrestling sessions in the yard, playfully steal each other's toys, observe squirrels and birds from the front window, nap together, and compete for attention each day. They are best friends, and we couldn't ask for anything more."